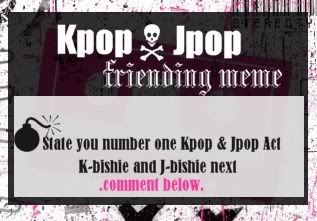 RULES:

1. Follow the RULE ABOVE- -- Since im not that much of a grinch~ okay, you can put your favorite KPOP and JPOP Acts. :]
2. COMMENT BELOW and I'll add you! Or you can browse the other comment and friend them too. The FRIENDING process XD may not be immediately, (my Internet sucks.) but do not worry. :) Ill add you.
3. Here's mine. If you have the same as mine, add me up. :]
Im looking forward to have bb-s in here XD dont just add others and LEAVE them. okay?
LINK:
http://fayeiii.livejournal.com/46052.html